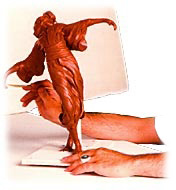 Since childhood, this Northern European and Italian artist has expanded his artistic awareness by observing and learning directly from nature and a multitude of different cultural groups. Later, formal degrees in anthropology and fine art from a prominent University, helped focus Paul Provence's immense abilities into four distinct mediums of artistic expression:

- Impressionistic-oil paintings and pastels - landscapes
- Non-objective Sculpture - Stone and wood
- Bronze Sculpture (figures)
- Prose and Japanese Haiku (also, Japanese Sumie)

After seeing Paul's artistic designs, the influence of his primary mentors -- C. Monet; J.F. Millet; V. Van Gogh; A. Rodin; Utamaro; Hiroshige; and Hokusai -- is quite apparent. Current works by Paul Provence include a wonderful series of landscape oil paintings and pastel studies devoted to the timelessness of nature's four seasons -- intense motifs emanating from the great beauty of the Rocky Mountain, haystack-dotted countryside -- where the artist often creates. These vibrant Impressionistic paintings reveal the deep mysteries of great moments when atmosphere, light, color, season, and composition converge into powerful expressions of personal, yet universal beauty. All of these exquisite, mysterious elements live within each of Paul Provence's amazing compositions. His motifs and technique are at all times powerful and beautiful, often revealing a twilight quality he accurately and affectionately calls "Sfumato." (A twilight quality or ambiance, extracted and learned from extensive study of Leonardo DaVinci's works; also, Caravaggio and J.F. Millet's masterful compositions).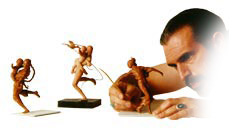 Also under development is a monumental bronze sculpture of twelve life-size children, which is uniquely kinetic, allowing human interaction through the continuous movement of observers and visitors within the sculpture's forms. "The Living Circle"™ is the appropriate name given to Paul's brilliant design, which is a "First" in the history of world art, soon to be permanently installed at the capitals of potentially thirty nations, worldwide.

Although sculpture is a recent medium for Paul's disciplined talents, his early love and study of Barbizon landscape painters has created a wonderful synthesis between early French Impressionism (his chosen style) and the vitality of expressionistic brushstrokes, often exhibited in his most recent works. Not content with just maintaining a historical fine arts tradition, Paul Provence's remarkable abilities often surprise us (the result of continual exploration within new mediums) coupled with his stylistic variations within great painterly traditions: Japanese Sumie and French Impressionism.

Innovations, natural integrity, and intrinsic growth will always be the foundation of this Renaissance man, who promises to become, and remain, an important artist for all time.

"Above all, I try to create and paint the way seasons change or water flows ... revealing the essence of life's powerful or quiet moments, otherwise overlooked." (Paul Provence)


"Autumn"
Horizon's branches,
Puncture sunset's golden yoke…
Bold, fluent brushstroke!
(Haiku by Paul Provence, 1986 &copy)

"Sumie Genius"
New bamboo leaves ... Great
Eagle's wings, dance the wind ... Wished
into existence.
(Haiku by Paul Provence, 1/7/92 ©)
Paul Provence, (Fine Artist, Anthropologist. President: Open Circle Arts) Phone (206) 232 - 6789